WISDOM TEETH
Wisdom teeth, also known as third molars, typically erupt between ages 17 and 21. They are usually the last permanent teeth to develop, and are located at the back of your mouth, one in each quadrant. Two on the upper and two on the lower, completing a set of 32 adult teeth. Some people never develop wisdom teeth. For others, wisdom teeth erupt normally, and cause no problems. But, when a wisdom tooth does not have room to grow and/or erupt, it is referred to as "impacted."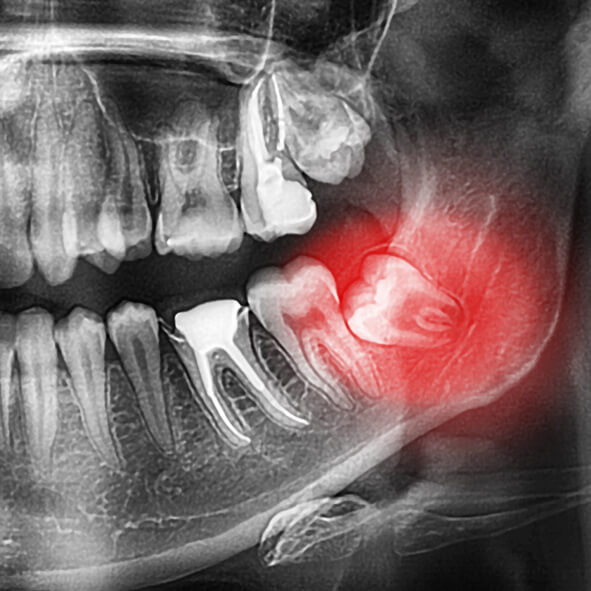 Many times, there is not ample space to accommodate four more teeth in the average person's mouth. Lack of space can result in wisdom teeth that develop, but never erupt. In other cases, the tooth will attempt to emerge, but remain partially covered due to lack of space. The limited space can cause the tooth to develop at an unusual angle, creating other issues, and increasing the difficulty in removal. In these instances, the tooth is considered impacted. Your dentist will likely recommend wisdom tooth removal of an impacted wisdom tooth.
Though there is an average age at which time wisdom teeth normally present, there is no set timeframe for when your wisdom teeth will erupt. Typically, your dentist will perform a wisdom tooth evaluation before age 16. Using specialized imaging, your dentist will be able to determine the presence and positioning of wisdom teeth, and whether tooth extraction will be necessary. Using x-ray technology can also help your dentist identify potential risk factors from other individual anatomical features. At your wisdom tooth consultation, your dentist will create a treatment plan tailored to your unique smile needs. She will go over your health history to determine your candidacy for oral surgery, as well as your specific options for sedation. You will be given a chance to ask any questions or voice concerns. The dentist and staff will walk you through what to expect on the day of surgery, and make sure you leave feeling informed and prepared for the oral surgery process.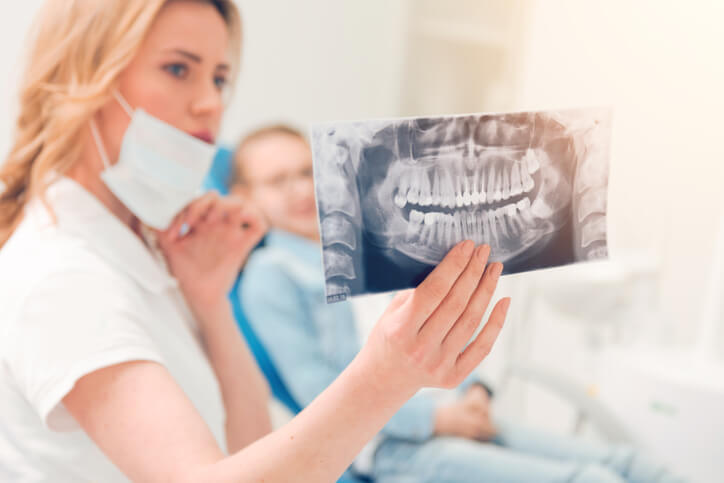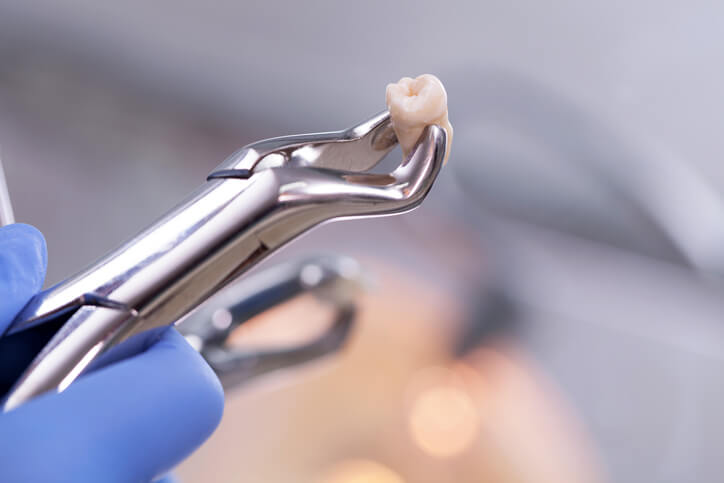 Wisdom tooth removal/extraction is a surgical procedure to remove one or more wisdom teeth. When impacted wisdom teeth are causing pain or damage, your dentist will most likely recommend tooth extraction. In some cases, your dentist may recommend the extraction of an asymptomatic wisdom tooth (a tooth that is not causing any current problems) to prevent potential problems in the future. Wisdom tooth removal is an extremely common procedure. So common, in fact, that Americans have as many as 10 million wisdom teeth removed each year. Here at Natural Dentist Associates, we remove hundreds, perhaps thousands of wisdom teeth yearly. With years of expertise, we have learned many different techniques that we find useful during wisdom tooth extractions.
At Natural Dentist Associates, Wisdom Tooth Surgery is performed as an outpatient procedure. This means that you will go home on the same day. For many patients, wisdom tooth removal is performed with local anesthesia (numbing the area). For others, the doctor or patient may opt for a different form of sedation. Our office staff has the training, licensing, and experience to provide various types of anesthesia/sedation. These services are provided in an environment of optimum safety, utilizing modern equipment and well-trained staff. There are many determining factors in choosing the right sedation option for each unique patient, including the expected level of complexity, the patient's comfort level, as well as a review of current and past medical history. Your dentist will work with you to create a treatment plan that ensures your comfort before, during, and after your wisdom tooth surgery. Whatever your wisdom tooth sedation needs, we have an option that is right for you.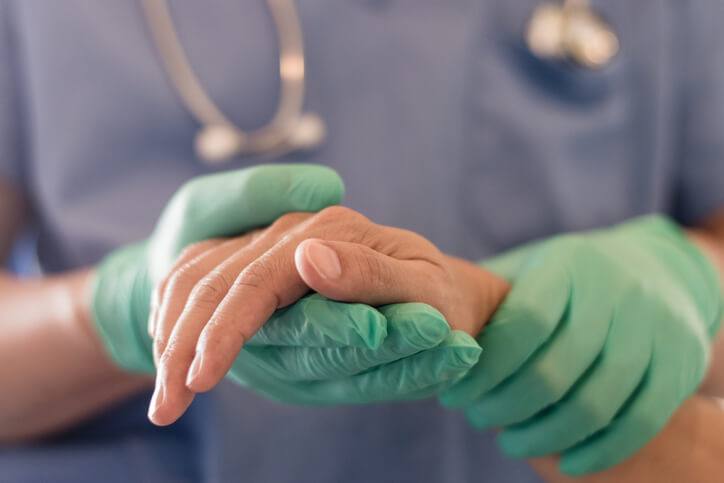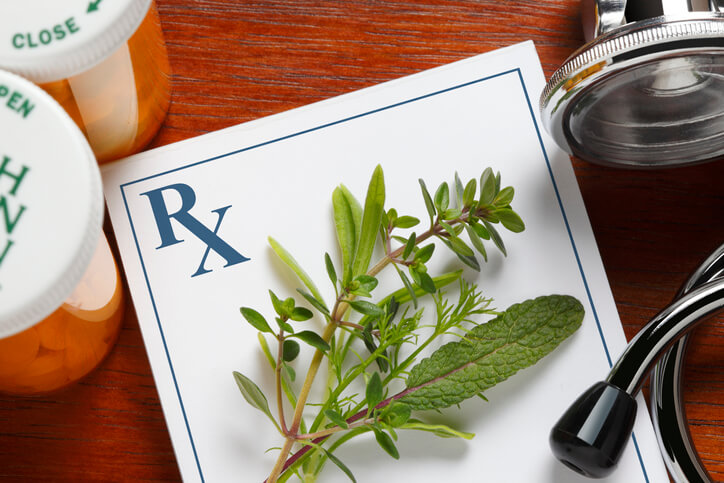 While there are many dentists and oral surgeons to choose from, the main thing that sets Natural Dentist Associates apart is right there in the name: NATURAL. We are holistic dentists, also known as biological or natural dentists. We believe that your teeth are an integral part of your body and your overall health and we understand that oral health and dental health can have a major influence on other disease processes in your body. As biological dental surgeons, our primary goal during wisdom tooth extraction is to remove your tooth while working in harmony with the rest of your body. Which is why we use a natural and holistic approach when extracting wisdom teeth, including removal of the periodontal ligament, placing Platelet Rich Fibrin (PRF) in the extraction site, natural pain relief options like Arnica, and the use of ozone therapy during the procedure to reduce pain, swelling and recovery time.
The Recovery period after removing Wisdom teeth can be as little as 1-2 days of moderate soreness with intermittent throbbing pain. The soreness and throbbing pain will decrease to minor soreness from days 3-7. Most times, the soreness and throbbing can be controlled by prescription strength Ibuprofen and pain medication. It is best to plan to rest for 2 days after wisdom teeth extractions where it is not necessary to work or engage in heavy activity. Wisdom teeth are best removed between the ages of 14 and 25 years of age. Generally, the pain after extractions is greater in patients where there is pain and swelling present prior to tooth removal. Wisdom Teeth Removal is one of the most common Dental Surgeon procedures we perform in Rockville Maryland.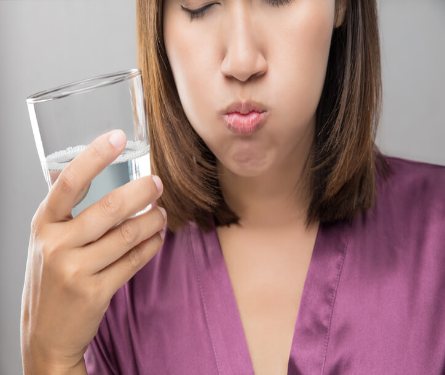 We primarily serve Rockville, North Bethesda, Silver Spring, Wheaton, Potomac, Washington DC, Gaithersburg, Kensington, Germantown, Burtonsville, Laurel, Columbia and Northern Virginia (Mclean, Tysons Corner, Great Falls, Arlington ) but people travel from all over the country for our specialty and holistic dental services.